A Unique River Birding Spot
Interactive, experienced Guides
Fully equipped facilities
Phenomenal panoramic views
Boat cruises are weather dependant
Spot over a 100 bird species

Set out on the Lady Stanford, an exclusive luxury boat cruise down the Klein River from
Stanford Village towards the Hermanus Estuary and back. Indulge in the scenic beauty of the surrounding mountain ranges, while our experienced guides point out a wide variety of birdlife, especially the feathered variety!
The Lady Stanford is an experience for any nature lover who wants to be completely immersed in a pristine environment. It can comfortably accommodate up to 26 passengers and is fully equipped with relevant birding books and checklists, binoculars, blankets and even an eco-friendly toilet.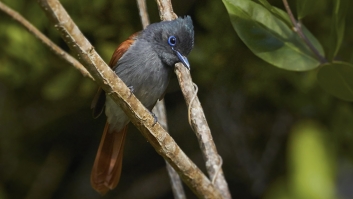 Bird-lovers will relish the chance to view more than 120 species of birds. The Klein River Lagoon is home to an array of birds, including the Blue Crane (National Bird), Flamingo, African Fish Eagle, Red Knobbed Coot, Yellow Billed Duck and a variety of Cormorants and Geese. s.
Enjoy the natural beauty of the Overberg as the sun sets behind the breathtaking mountain ranges. Treat your senses to a luxurious and magical experience on the Klein River with glass of bubbly. Accompanied by an expert guide to share the secrets of golden hour and the flourishing birdlife.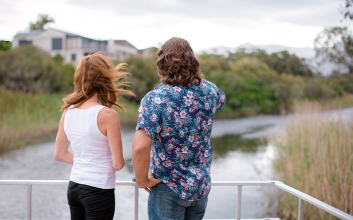 Create everlasting memories on a sublime cruise fit for the whole crew. Lady Stanford comfortably seats 26 guests which makes it perfect for special occasions, social events and family gatherings.