Ideal for both novices and experts
Our 2500-hectare reserve offers a variety of trails.
Appreciate ocean and mountain views as you see the reserve from a different perspective.
There's something special about seeing a place on horseback. Take a slow trot as you appreciate the views or ride down the sweeping sand dunes, the fresh air filling your lungs and exhilaration pumping through your veins.
Horse riding at Grootbos is suitable for anyone, whether you're a complete novice or a more experienced rider. Go for a relaxed ride through the fynbos or ride one of our special horses that are specifically trained for the beach. Our 18 horses in the stable on our reserve are well exercised and expertly trained, while all of our guides have years of experience in dealing with these noble animals.
From Our Expert Guides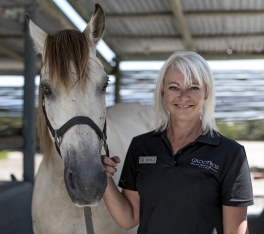 "We have the most awesome beaches to ride on, mountains for breath taking views and the entire reserve to ride"