An iconic day trip
Tours can be organised to cover a full day or half day.
Visit the villages of Baardskeerdersbos and Elim.
Enjoy wine tasting at the Southern most tip of Africa.
This specially crafted day trip will show you the undiscovered corners of this unique area through a combination of experiences you won't find anywhere else. Snap unforgettable pictures of the tip of Africa, watch the locals feeding sting-rays in the Struisbaai harbour and uncover the fascinating history of small villages.
Spot birds, antelope and ostriches as we drive on the border of the Agulhas National Park, where the Blue Crane bird is abundant. Then enjoy a leisurely lunch in the harbour. Take a brisk walk to the lighthouse, and then learn how many ships came to be wrecked along this 'Cape of Storms'.
From Our Expert Guides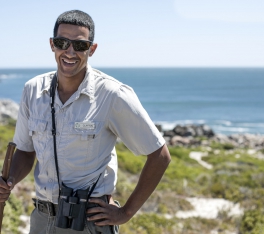 "How many people can say they were at the Southern Tip of Africa, where the Indian & Atlantic ocean meet."